Functions
The Unidata platform is a multifunctional platform for building corporate data management systems. The platform provides the means for centralized data management (inventories and accounting of resources), the standardization of data (normalization and enrichment), keeping track of historical data (control of record versions, periods of data relevance), and maintaining data quality and statistics.

Unidata's functions
Centralized data management
Finding and merging duplicates
Data analysis and statistics
Standardization and data quality services
Seamless integration with third-party information systems
Data management based on a company's internal regulations
Security access models and role-based data models
Data security
FEATURES
The Unidata platform provides a wide range of information management capabilities for obtaining up-to-date and reliable data. The platform automates the processes of data collection, accumulation, cleansing, comparison, consolidation, quality control, dissemination and data enrichment.
Unidata's features
Data modeling

MDM and RDM

Differentiation of data access rights

Business process management (BPM)

Integration with third-party information systems

Configuring the graphical interface of the platform

Advanced searches

Data imports and exports

Data quality (DQ)
ADVANTAGES
The Unidata platform manages basic information and reference information in terms of data quality (DQ), and provides powerful tools for automating the decision-making system (Data Governance). The strengths of the platform include: rapid implementation, high productivity, flexibility of the architecture and consideration of the specifics of both separate enterprises and large holdings.
Our partners working with European companies appreciate the fact that Unidata has already been adapted to the realities of the EU, and it fully complies with the GDPR (General Data Protection Regulation).
Unidata's advantages
High stability of the data storage system

High performance

Ability to scale in and scale out

Technology stack that is based on free software with an open source code

Support for different styles of master data management

High speed of implementation

Fully GDPR compatible
Unidata's functionalities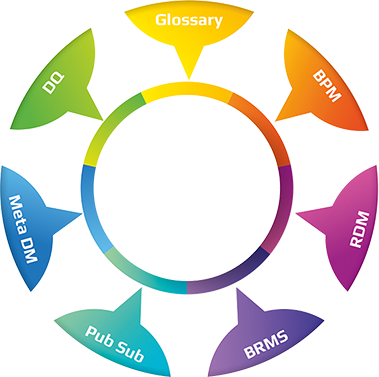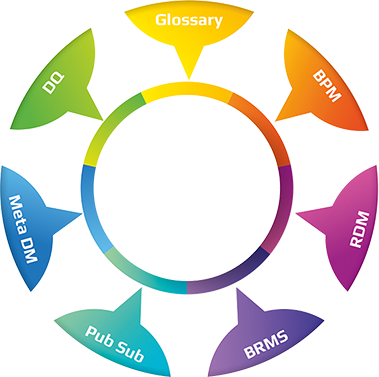 MDM - Master Data Management
Master data management system. The core of the platform is responsible for storing all the data as master records, with a history of the changes. The MDM also orchestrates the variety of the modules.
BUSINESS GLOSSARY - Vocabulary of terms
Describes the business terms and their use in the logical data model. Supports eOTD and industry-specific options for the implementation of dictionaries.
BPM - Business Process Management
Responsible for the workflow of any decision-making processes, i.e. approvals, external applications interactions, and operations with human involvement.
RDM - Reference Data Management
Responsible for managing static, rarely-changing data or data that comes from external environments, as well as other referenced sources, i.e. regulatory data.
BRMS - Business Rule Management System
Configures the automatic decision-making process based on the input parameters and decision models. Used in the control of duplicate prevention, as well as for searching, consolidating, creating and editing data.
PUB SUB - Public and Subscribe
Responsible for the interaction of the platform with external systems and master data consumers, to ensure it operates on a certain schedule, according to certain triggers, etc.

META DM - Metadata Management
Manages the structures of the data of source systems and consumer systems, as well as their relationship to the data model in MDM. It is tightly integrated with the Business Glossary.
DQ - Data Quality
Responsible for quality control and validation. It can be used to enrich data from external sources, as well as performing duplicate search operations and as a duplicate prevention control.