In finance area it is vital to have a centralized management system for financial information, designed primarily to provide access to complete, reliable and up-to-date data.
The Unidata platform acts as a powerful and effective resource for creating a financial information management system that provides access to relevant, reliable and complete financial data, without changing the existing information infrastructure.
Advantages
The solution based on the Unidata platform for banks and investment companies will reduce the labor costs required for information interactions, as well as reducing the number of manual processing mistakes, and will become the basis for a new generation infrastructure aimed at automating the processes related to the receipt and processing of financial information.
Centralized data collection
Centralized data collection from heterogeneous information systems with subsequent generalization and elimination of repeated erroneous and outdated data.
Automation
Automation of the processes of receiving and updating data from directories created and regulated by government agencies.
Simplification
Simplifying the process of identifying legal entities and individuals by providing search tools for limited data sets that take into account inaccuracies and variations in the writing of names, addresses, etc.
Acceleration and optimization
Acceleration and optimization of the processing of questionnaires, applications and other documents containing personal data of customers.
Data security
Ensuring the ability of employees with different levels of access to secret information by using specialized mechanisms for differentiating access rights to resources and platform functions.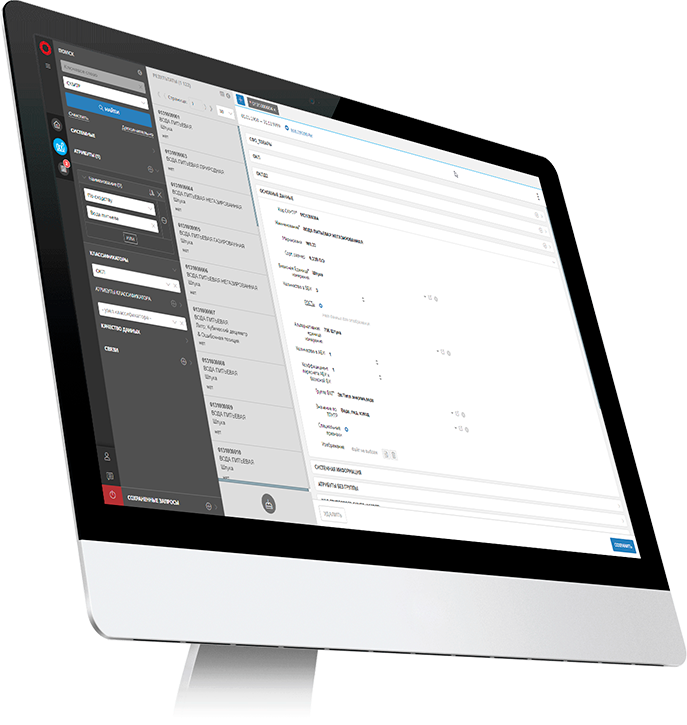 Unidata Platform
The platform allows you to extend the functionality of the existing database and build complex systems.
Platform advantages
Data management based on a company's internal regulations
Finding and merging duplicates
Enrichment and consolidation
Quality control and validation
Centralized data management
Data analysis and statistics
Seamless integration with third-party information systems
Submit your application
The specialist will call you back or write to you within two hours on weekdays
By submitting your personal data in the fields of the application, you agree to
its processing