Working with reference data
A ready-to-use solution built on the basis of the Unidata platform allows the unified reference book of the nomenclature to be created, to be kept up-to-date and to distribute the data to other information systems.
Information about the reference data undergoes cleansing and enrichment for its further use in the internal and external information systems of the enterprise. This helps is to quickly track changes and to take into account the specifics of complex projects performed with third-party organizations.
The unified reference data book
The unified reference data book provides you with access to information about the manufacturer and the parameters of the purchased products, including data on the compliance with the requirements of industry and state standards, quality indicators and delivery dates, component parts, and the terms and conditions of the warranty and post-warranty service.
Data quality control
The information is added to the unified reference book from heterogeneous sources, and must automatically pass quality controls according to our custom rules, with its subsequent clearing, enrichment and reduction to a standard form.
Effective consolidation
Consolidation of data from a large number of sources with their subsequent clearing and bringing them to a standard form allows us to organize a centralized repository of the most complete information about the nomenclature with the possibility of supplementing it and updating it in an automatic mode. Thus the use of Unidata platform allows to organize a transparent vertical process of production of high-tech products with simultaneous control of its cost and quality indicators.
Management decisions
Reference data catalog ensures you have access to high-quality, reliable and complete information about the suppliers and contractors, and provides information for you to make managerial decisions.
Different sources support
Consolidated information of a huge array of disparate data coming from different sources: сorporate information systems (SRM, CRM, CPM, BPM, DWH, ERP, etc.) and public information systems owned by state structures.
Automating
Automating the processes of searching for duplicates and information cleansing.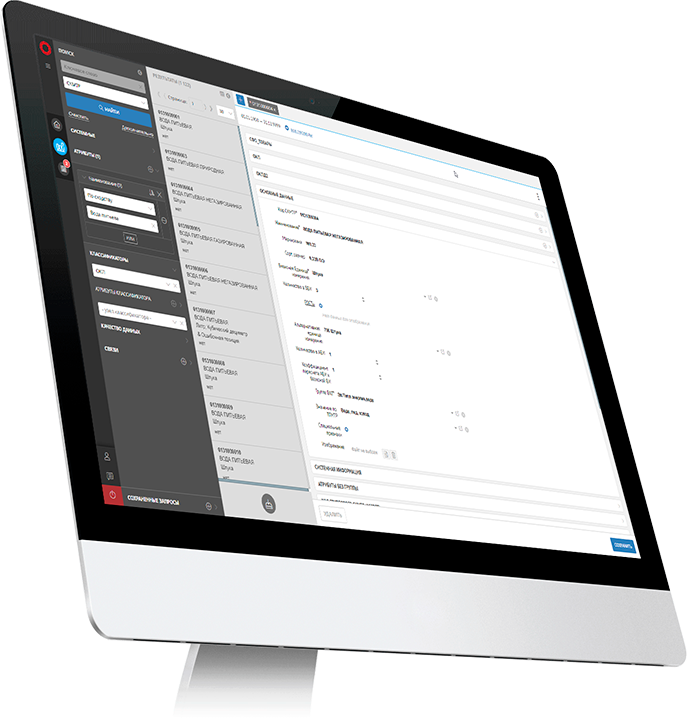 Unidata Platform
The platform allows you to extend the functionality of the existing database and build complex systems.
Platform advantages
Data management based on a company's internal regulations
Finding and merging duplicates
Enrichment and consolidation
Quality control and validation
Centralized data management
Data analysis and statistics
Seamless integration with third-party information systems
Submit your application
The specialist will call you back or write to you within two hours on weekdays
By submitting your personal data in the fields of the application, you agree to
its processing