Unidata forms a unified catalogue of material and technical resources, support it in the current state, and distribute the data to other information systems.
Information about the contractors undergoes cleansing and enrichment for its further use in the internal and external information systems of the enterprise. This helps is to quickly track changes and to take into account the specifics of complex projects performed with third-party organizations.
Effective performance
The main objective of the system is to effectively ensure the production of material and technical resources, as well as the organization of the process of the delivery and storage of material resources that are preceded by unpacking, conservation, preparation and pre-processing.
Studying the specifics
Our solution takes into account the specifics of the logistics of holdings and large industrial enterprises, and provides them with tools for managing requests and purchases, selecting a supplier, accounting for the resource characteristics and analyzing the effectiveness of the logistics solution.
Up-to-date base
The standard functions of the platform are used to obtain, consolidate and harmonies the needs for logistical resources, with information on alternative purchases of analogues.
Hierarchical directories
It offers the ability to interact with hierarchical directories that work not only with single products, but also with small- and large-nodal details.
Single classifier
The use of a single classifier for the material and technical resources, offer the centralized formation of the requirements for materials and equipment by items of expenditure and activities.
Powerful analysis
The analysis of the conformance to needs, organization of the competitive procurement of materials and technical resources, control of the availability of the remnants of materials and technical resources in warehouses.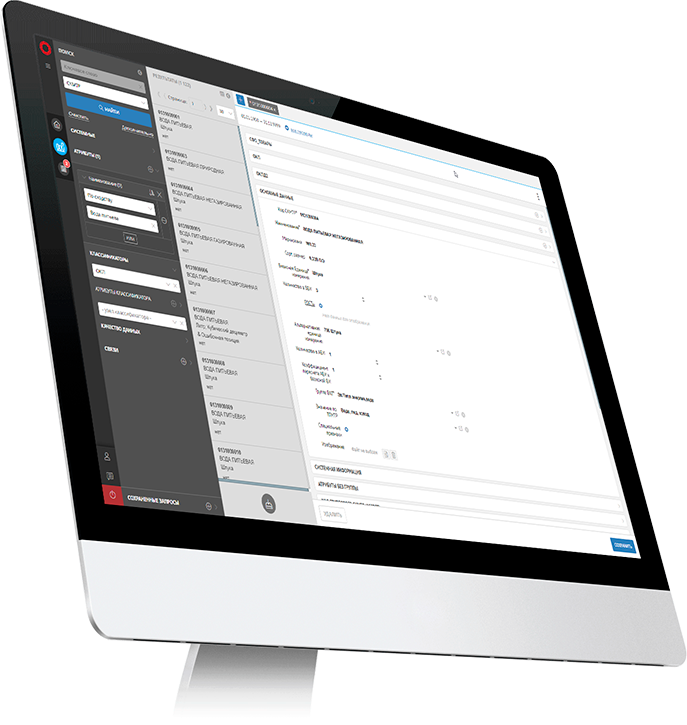 Unidata Platform
The platform allows you to extend the functionality of the existing database and build complex systems.
Platform advantages
Data management based on a company's internal regulations
Finding and merging duplicates
Enrichment and consolidation
Quality control and validation
Centralized data management
Data analysis and statistics
Seamless integration with third-party information systems
Submit your application
The specialist will call you back or write to you within two hours on weekdays
By submitting your personal data in the fields of the application, you agree to
its processing