The Unidata platform increases the efficiency of enterprises in the industrial sector through the organization of information interactions between the elements involved in the production process and the components involved in the financial and economic management of the enterprise as a whole.
The introduction of the Unidata platform at an enterprise in the industrial sector will create an automated mechanism for managing materials, as well as the technical, methodological and production bases, taking into account the technological processes that are the basis for the activities of each individual production unit.
Tasks to solve
Managing the composition of the products, orders of suppliers of components, selection of analogues for the product's structure, sales planning and production operations (S&OP).
Effective data
Vast opportunities for using consolidated data from public sources: data on economic indicators of contractors, the availability of judicial proceedings in respect of them, the availability of contractors in various registers of the Federal Tax Service, the Ministry of Justice and other federal and regional executive authorities, changes in the composition of shareholders and related legal and individuals and other information.
Analytical reports
The ability of forming analytical reports on the enterprise's activity in an arbitrary period of time.
Single data center
Creation of a single data center for internal corporate information systems for the subsequent formation of production and financial plans.
Automation
Automation of processes of searching for duplicates and cleaning up information contained in enterprise information systems.
Quality control
Ensuring quality control of products, taking into consideration the nomenclature composition, cost characteristics and quality indicators, the availability of similar products on the market, the terms of the provided guarantee, etc.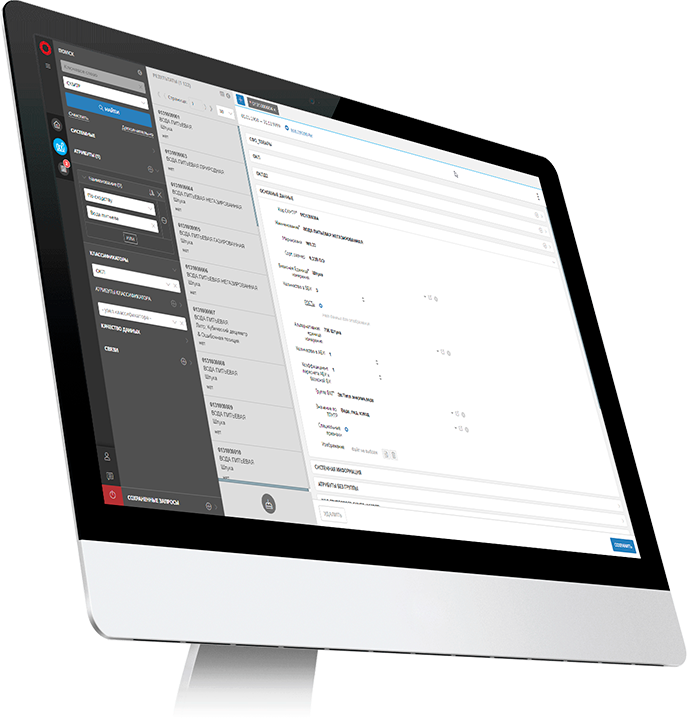 Unidata Platform
The platform allows you to extend the functionality of the existing database and build complex systems.
Platform advantages
Data management based on a company's internal regulations
Finding and merging duplicates
Enrichment and consolidation
Quality control and validation
Centralized data management
Data analysis and statistics
Seamless integration with third-party information systems
Submit your application
The specialist will call you back or write to you within two hours on weekdays
By submitting your personal data in the fields of the application, you agree to
its processing