The centralized accounting of public administration facilities, creating available services for electronic public services, and creating stable mechanisms for cross-sectoral electronic interactions.
The Unidata platform can be used for the centralized management of administrative information designed primarily to access full, reliable data without the cost of changes in the operating information infrastructure.
Advantages
The organization of the centralized collection of information, its enrichment and generalization, automation of the reference information management, maintaining registries, obtaining and updating information from catalogues, integrating with information systems and software complexes used at the enterprises, accelerating and optimizing the processing of questionnaires, applications and other documents, and the organization of the work of employees with different levels of access to classified information.
Сentralized data collection
Organization of a centralized data collection from heterogeneous information systems at the federal and regional level with subsequent generalization and elimination of repeated erroneous and outdated data.
Automation
Automation of the process of receiving and updating data from directories created and regulated by other government agencies. Ensuring the receipt of data published by other government agencies in the information systems used.
Simplification
Simplification of the process of identification of legal entities and individuals by providing search tools on a limited set of data, taking into account inaccuracies and variations in the writing of names, addresses, etc.
Acceleration and optimization
Acceleration and optimization of the processing of questionnaires, applications and other documents containing personal data of citizens.
Data security
Ensuring the ability of employees with different levels of access to secret information by using specialized mechanisms for differentiating access rights to resources and platform functions.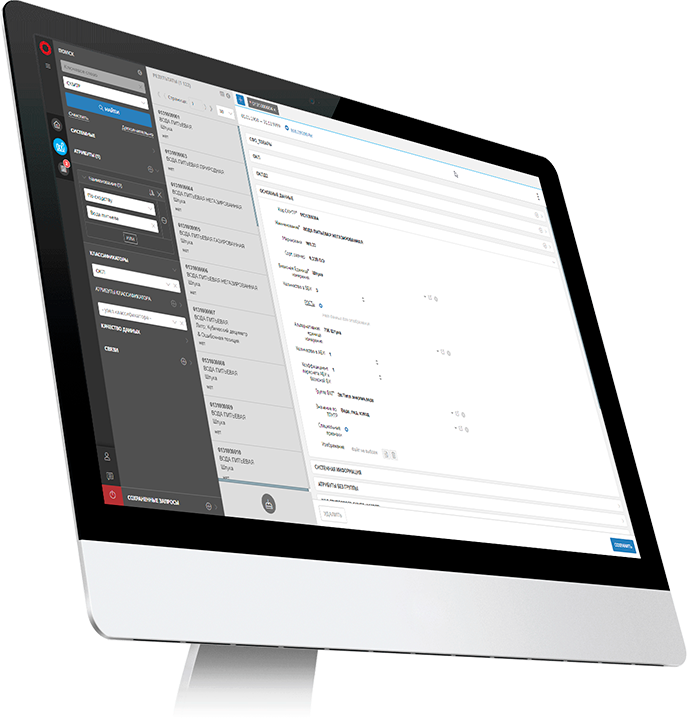 Unidata Platform
The platform allows you to extend the functionality of the existing database and build complex systems.
Platform advantages
Data management based on a company's internal regulations
Finding and merging duplicates
Enrichment and consolidation
Quality control and validation
Centralized data management
Data analysis and statistics
Seamless integration with third-party information systems
Submit your application
The specialist will call you back or write to you within two hours on weekdays
By submitting your personal data in the fields of the application, you agree to
its processing