Unidata entered Gartner review on MDM solutions
Corporate
30 January 2020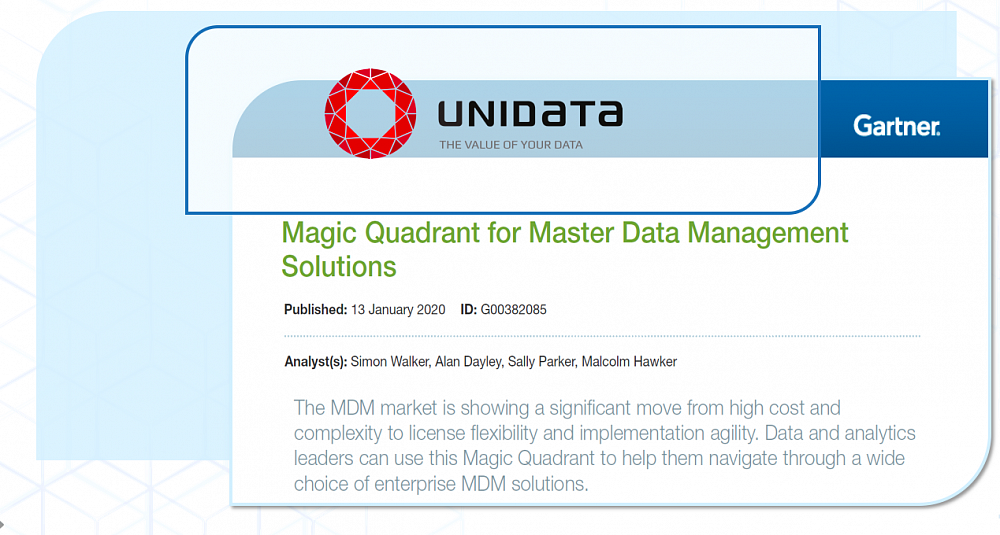 In January 2020 the largest and most respected international analytical agency Gartner published Magic Quadrant for Master Data Management Solutions and included Unidata in the list of leading players in the data management market that set the tone for the entire data management industry. For the first time a Russian company working in the field of data management has been recognized at such a high international level.
The inclusion of Unidata in the Gartner report is a recognition of our technological effectiveness and efficiency. - explains Unidata CEO Sergey Kuznetsov. – From the first day of development we laid down truly innovative ideas in the platform and made our development on the main trends in the field of data management. Lately we showed to several Gartner analysts that in many areas Unidata is one of the most advanced platforms in the world. The Russian IT market is highly technological and numerous projects with our customers have allowed us to create one of the most advanced and high-performance platforms in the world.


Gartner is one of the world's largest research and consulting companies specializing in the market of information companies. IT professionals around the world are well aware of Magic Quadrants, Hype Cycles and many other studies.