Unidata took part in the Gartner Data & Analytics Summit 2019 Summit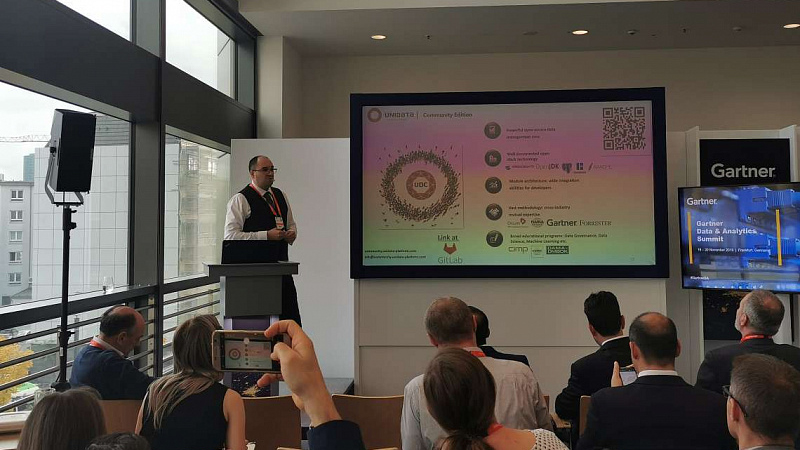 Unidata participated in the Gartner Data & Analytics Summit 2019 summit which was held on November 19-20, 2019 in Frankfurt-am-Main (Germany). Like a year ago we acted as the official sponsor of this landmark event. Within two days leading European and world experts in the field of data management received the most comprehensive information regarding current trends in the data management market and forecasts for its further development. Topics on the future of MDM, Data Governance, Machine Learning and Artificial Intelligence were of special interest for everyone.
Unidata CEO Sergey Kuznetsov in his «New Era: EDM Goes Open Source?" speech during gave some details about the global history of open source software development and about the modern EDM (Enterprise Data Management) situation and the contribution that the company makes in this direction. Unidata's representative also paid special attention to the company's new product - Unidata Data Governance, which allows you to connect and track all user actions related to data across all levels of enterprises of any scale: from annual reports of company management to the column in the regional division table. At our stand Unidata specialists presented English version of the platform and told everyone in detail about the latest achievements of the company.
We continue our course to participate in the largest world events in the field of data management. - explains Unidata CEO Sergey Kuznetsov. - And this year from these high stands we talked about Unidata Community Edition - a special edition of the open source platform. In addition to laying out the source code we also began to form a community because we are well aware that only the participation in the project by a powerful pool of data management specialists from around the world will bring truly effective results. It is gratifying that our report aroused great interest. Having analyzed the expert's speeches we once again saw that Unidata is one of the most effective and modern data management platforms in the world.